While TBC associates stayed focused meeting October deadlines, the accountants and staff also had lots of fun engaging in non-work activities this fall.
Many individuals joined together to take part in some team building skills while raising money for Making Strides Against Breast Cancer by forming teams to "escape the mystery room." Over 40 people from TBC participated in Escape the Mystery Room at Crossgates Mall to challenge each other in a timed contest to solve the puzzles involved with "escaping" the locked rooms. By using their senses, instincts, and wits to escape the room in 50 minutes or less, they had a great time and a portion of their entry fees went to the cause. The fundraiser accounted for $700 of the team's total amount leading up to the Making Strides walk on October 15. In total, TBC's walkers and organized fundraising efforts tallied $5,565 for the team TBC in Memory of Traci Daoust, dedicated to keeping our longtime associate Traci Daoust's memory alive after her untimely passing due to the disease.
Outside of the walk, our second favorite part of the month of October was when we got to treat our Bosses to a celebration of their leadership by taking part in National Bosses Day. This year, our theme was "It'd be a zoo in here without you." There was cake and other goodies for our Shareholders and Partners.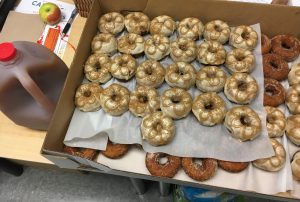 But who can forget another treat in celebrating Halloween and pumpkins? Administrative Manager Gail Watson brought us the Halloween spirit yet again by dressing up in her Halloween costume. We also celebrated National Pumpkin Day on October 26 with pumpkin and autumn harvest flavored doughnuts and cider.
Overall, a very successful October. We are excited to see what the rest of November brings!