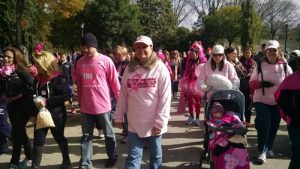 On Sunday, October 19th, several employees from Teal, Becker & Chiaramonte, CPAs, P.C. (TBC) walked in the annual American Cancer Society Making Strides event in Albany. The group from TBC was one of over 700 teams that came together to walk in honor of those diagnosed and affected by breast cancer, and to raise awareness and funds to combat the disease.
In addition to those who participated in the walk, the employees at TBC participated in fundraising activities in the months leading up to the event and collected over $2,500 to contribute to the American Cancer Society. Internal bake sales and dress down days helped raise these funds.
While the TBC employees form a team for the Making Strides Walk Against Breast Cancer annually, earlier this year a longtime employee at TBC was diagnosed with breast cancer. Employees immediately began seeking ways to help their colleague, one of which was to organize a gardening day at the associate's home.
"Once again, our employees have demonstrated their genuine compassion for others in coming together to not only help out one of our own, but also by helping the many people affected by breast cancer," said Managing Partner James W. Drislane. "When this disease hit home this year, our employees were ready to take action and I commend them for their efforts, whether it was volunteering their time, participating in the walk, or donating funds to the cause."